Historical Context
Edit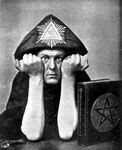 Aleister Crowley
(12 October 1875 – 1 December 1947) was an English occultist, ceremonial magician, poet, painter, novelist, and mountaineer. He founded the religion and philosophy of Thelema, identifying himself as the prophet entrusted with guiding humanity into the Æon of Horus in the early 20
th
century.
Very hard to play. His perk is nothing special or particularly useful, starting party consists solely of cultists, while equipment is even worse. Remember that cultists can turn into abominations completely at random. If the cultists are to be replaced with other companions, they definitely should have at least one dice other than red - Aleister already brings two.

How to Unlock
Edit
Finish every expedition in a game (rank 3+) with good standing.
Ad blocker interference detected!
Wikia is a free-to-use site that makes money from advertising. We have a modified experience for viewers using ad blockers

Wikia is not accessible if you've made further modifications. Remove the custom ad blocker rule(s) and the page will load as expected.