Historical Context
Edit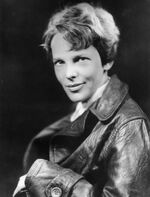 Amelia Mary Earhart
(24 July, 1897 – disappeared 2 July, 1937) was an American aviation pioneer and author. Earhart was the first female aviator to fly solo across the Atlantic Ocean; she set many other records, wrote best-selling books about her flying experiences and was instrumental in the formation of The Ninety-Nines, an organization for female pilots.
During an attempt to make a circumnavigational flight of the globe in 1937, Earhart disappeared over the central Pacific Ocean near Howland Island.

How to Unlock
Edit
Finish a game in first rank
Ad blocker interference detected!
Wikia is a free-to-use site that makes money from advertising. We have a modified experience for viewers using ad blockers

Wikia is not accessible if you've made further modifications. Remove the custom ad blocker rule(s) and the page will load as expected.