Historical Context
Edit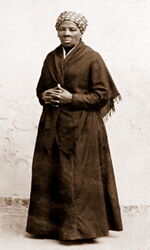 Harriet Tubman
(born Araminta Ross; c. 1822 – March 10, 1913) was an African-American abolitionist, humanitarian, and, during the American Civil War, a Union spy. Born into slavery, Tubman escaped and subsequently made some thirteen missions to rescue approximately seventy enslaved family and friends, using the network of antislavery activists and safe houses known as the Underground Railroad. Traveling by night and in extreme secrecy, Tubman (or "Moses", as she was called) "never lost a passenger". In the post-war era was an active participant in the struggle for women's suffrage.
Early in life, Tubman suffered a traumatic head wound when an irate slave owner threw a heavy metal weight intending to hit another slave and hit her instead. The injury caused dizziness, pain, and spells of hypersomnia, which occurred throughout her life. She was a devout Christian and experienced strange visions and vivid dreams, which she ascribed to premonitions from God.
During the American Civil War, Tubman worked for the Union Army, first as a cook and nurse, and then as an armed scout and spy. The first woman to lead an armed expedition in the war, she guided the raid at Combahee Ferry, which liberated more than seven hundred slaves.

How to Unlock
Edit
Finish an expedition with three natives in your trek.
Ad blocker interference detected!
Wikia is a free-to-use site that makes money from advertising. We have a modified experience for viewers using ad blockers

Wikia is not accessible if you've made further modifications. Remove the custom ad blocker rule(s) and the page will load as expected.