Historical Context
Edit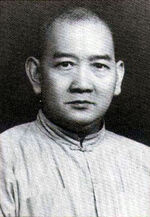 Wong Fei-hung or
Huang Feihong
(9 July 1847 – 25 March 1924) was a Cantonese martial artist, physician, and folk hero, who has become the subject of numerous martial arts films and television series. He was considered an expert in the Hung Ga style of Chinese martial arts.[2] As a physician, Wong practised and taught acupuncture and other forms of traditional Chinese medicine in Po Chi Lam (宝芝林; 寶芝林), a medical clinic in Guangzhou City, Guangdong Province.
Gameplay
Edit
Huang Feihong has a unique combat die. Each face has a different effect, but none combine with any other dice.
| Name | Damage | Shield | Requirements | |
| --- | --- | --- | --- | --- |
| Shadowless Kick | 3 | 3 | | |
| Taming the Tiger Fist | 0 | 0 | | Stun |
| Tiger Crane Paired Form Fist | 2 | 0 | | Multi Attack, Stun |
| Five Animal Fist | 2 | 0 | | Heals all party members for 2 |
| Iron Wire Fist | 8 | 0 | | |
Generally, Huang is a strong and flexible fighter, and combined with his Cook companion makes for a strong hunting-focused explorer.
While his attacks are random, they are almost always useful in a fight for either stun-locking the enemy, or dealing large amounts of damage. His unique attack means he is better at using other weapons found in the field such as the Pistol, Shotgun, Extra Bullets, Marked Bullets, and Spear to multiply his damage output, as other die can be saved to combine with these weapons, as opposed to Frederick Courtney Selous, who can output more singular damage but requires other dice to do it.
Huang also comes with extra survivability in the form of his Healer perk, and can slightly offset the need to find a shaman due to one of his unique dice attacks providing healing as well.
How to Unlock
Edit
Huang Feihong is available from the beginning of the game.
Possibley one of the stranger choices for inclusion in the game, as in life, Huang never left China, which especially makes the epilogue (where the explorer inevitably retires somewhere in Great Britain) a little strange.