Historical Context
Edit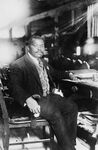 Marcus Mosiah Garvey, Jr.
, ONH (17 August 1887 – 10 June 1940), was a Jamaican political leader, publisher, journalist, entrepreneur, and orator who was a staunch proponent of the Black Nationalism and Pan-Africanism movements. He founded the Black Star Line, which promoted the return of the African diaspora to their ancestral lands.

How to Unlock
Edit
Finish the game (rank 3+) with two fully levelled up characters.
Ad blocker interference detected!
Wikia is a free-to-use site that makes money from advertising. We have a modified experience for viewers using ad blockers

Wikia is not accessible if you've made further modifications. Remove the custom ad blocker rule(s) and the page will load as expected.