Historical Context
Edit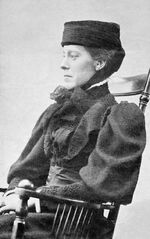 Mary Henrietta Kingsley
(12 October 1862 – 3 June 1900) was an English ethnographic and scientific writer and explorer whose travels throughout West Africa and resulting work helped shape European perceptions of African cultures and British imperialism.

How to Unlock
Edit
Reach the golden temple of the world 3 to unlock this character.
Ad blocker interference detected!
Wikia is a free-to-use site that makes money from advertising. We have a modified experience for viewers using ad blockers

Wikia is not accessible if you've made further modifications. Remove the custom ad blocker rule(s) and the page will load as expected.