Multi target is when a combination in combat affects multiple targets at once.
As of now, there are two multi target combination available: 'Shotgun Blast' and [tesla gun + green hand], but there will come more in the future according to Maschinen-Mensch in future updates.
Shotgun Powerblast is an upgraded Shotgun blast that does 5 damage instead of 3. It can be obtained with the combo of a shotgun, attack, and maneuver dice.
Dynamite affects multiple targets when it is used in combat.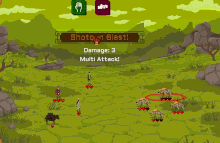 Ad blocker interference detected!
Wikia is a free-to-use site that makes money from advertising. We have a modified experience for viewers using ad blockers

Wikia is not accessible if you've made further modifications. Remove the custom ad blocker rule(s) and the page will load as expected.