Tim Timster is a journalist and can be found randomly at the docks with his pet dog, Luis.
He has a special companion perk due to his profession, Journalist, which grants increased fame for each expedition.
lvl
Dice
Toughness
Perk
1

6

Journalist
2

9
3



12
4



15
Always recruited together with his pet dog, Luis.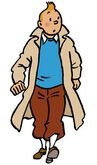 Tim Timster is a reference to the famous comic character
Tintin
, created by the Belgian author Hergé.